Ok so awhile ago I heard about something called a Birchbox. If you've never heard of a Birchbox it's a company where you pay a monthly subscription (I think it's $10) and they send you out a little package filled with sample goodies of different make-up/hair & beauty brands for you to try & reveiw. They looked sooo cute I really wanted one but they don't ship internationally so I had a mini strop & gave up on it for awhile. But then the other day I was youtubing & came across a lot of reveiws for something called a Glossy Box,  so I had a nosy & found a whole new world I was missing out on! I was all OMG! I HAVE to subscribe right now! The Glossy box is basically like a Birchbox but is for the UK market, I was practically sold already but then I stupidly veiwed another billion videos (I have no life lol) & found out about loads of others which totally confused me but today I finally made my decision & chose the Carmine Box.
These are some of the ones I've looked at and I'll be rating these on Packaging, Contents & brands, & Price & then give an overall score. Here are my favourites in order of which I like least to best…
No#5
Packaging

– 5/10 – Nothing special normal deleivery box just in pink

Contents & brands

– 6/10 – These are everyday brands that I buy most of the time, Im not saying thats bad I just fancy trying something different.

Price

 - 7.5/10 – I can't really give it just one price as they have some fantastic deals & others seem abit tight so I'm unsure. prices start at £1 & up for samples.
Overall – 18.5/30
Although I've scored this the lowest of the 5 I do think it has a certain appeal as you can choose which sample you would like e.g. you've seen a moisturiser but you don't want to buy a full bottle incase you don't like it they can send you a satchet to try. But what I am looking forward to is the element of surprise
No#4
Packaging & Presentation

– 7.5/10 – I do prefer this box to the Glossy box but they are pretty much exactly the same, pale pink & black but the presentation is good

Brands & Contents

– 7.5/10 – This I probably the one box where I knew the least of the brands & products & the majority don't look like things I'd be interested in anyway but they do have some good brands on there

Price

– 7.5/10 – £10 + p+p £2.95 – £12.95
Overall – 22.5/30
There are things I like and dislike about this box but I may try it out eventually
No#3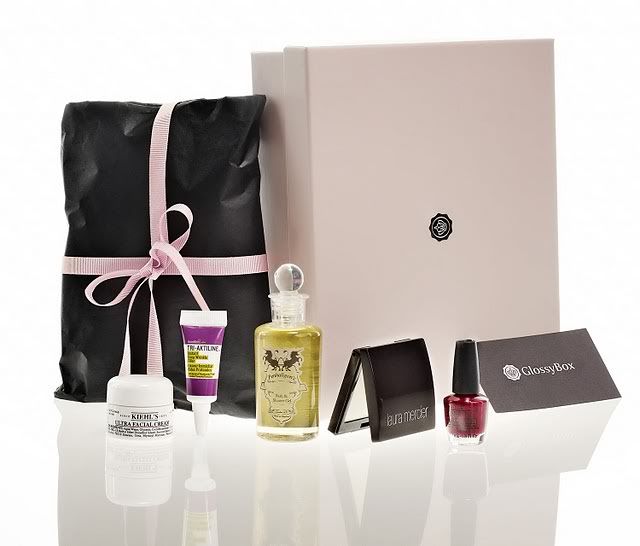 Packaging & Presentation

- 7/10 – All in all this is a very pretty box and great presentation, I guess the only reason I've marked it down really is they colour (I'm not a big fan of pale pink)

Contents & Brands

– 8/10 – To be perfectly honest I don't really know any of the brands this box contains, which is quite good if you like try new things (which I do) & also the brands are quite High End & expensive which is also nice if like me you can't afford the full item, Overall though the contents seem good quality

Price

– 8/10 – It currently sells at £10 + p+p which is about £2.95 - £12.95
Overall - 23/30
I may try this box at a later date just to see what its like as it does seem like a good box & has good contents
No#2
Packaging & Presentation

- 9/10 – As you may know by now I'm not really a girly girl & this box is perfect I know its still black & pink but it's black with hot pink highlight rather than pale pink with black highlight (lowlights?) I also really like how it opens up.

Brands & Contents

– 8/10 – From what I've seen the contents look good & they give you a fair few samples to try out in good sizes

Price

– 10/10 £9.95 pcm Free worldwide delivery – This is the cheapest of all the boxes a fantastic price.
Overall – 27/10
It was actually neck & neck between this & the Carmine Box, The main reason it won out is because of the contents. I'm seriously considering quitting the gym & just subscribing to both of these lol.
No#1
Packaging & Presentation 

- 9/10 – Again as you know I'm not the biggest fan of pink & this box has just the right touch of being girly without loads of pink Infact theres no pink whatsoever which I think is great.

Brands & Contents

– 9/10 – the contents in the picture above are the November box contents which will be the first box I receive & the Dainty doll eyeliner retails at around £10 so the box has basically paid for itself already. Im excited to try all the products in this box & intrigued to see what I'll be receiving next month.

Price

– 9/10 £10 + p+p £2.75 – £12.75 -One of the more expensive boxes but the products make it well worth it
Overall – 27/10
This box won out mainly because of the brands and products but also based on reveiws I've heard I am really excited to try out all the products I'll be receiving & will do a reveiw on the box & the products when I receive them.
So do any of you subscribe to any of these? maybe you subscribe to a different one or your thinking of subscribing? Let me know in the comments section
To visit any of the sites just click the picture